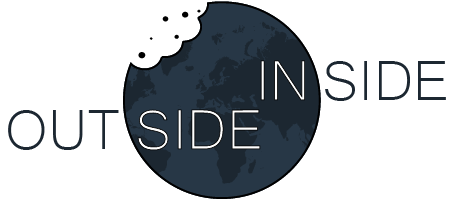 Terms & Conditions
By visiting insideoroutside.lu, you are consenting to our Terms & Conditions.
Terms & Conditions (Terms)
"We," "us," "our", "the site" and "the website" refer to insideoroutside.lu. The terms "you," "your," and "user" refer to all visitors and/or guests of this service. "Service," and "site" refer to all pages, resources, and any other aspects of inside or outside and insideoroutside.lu.
Use of the Service, including all materials presented herein is subject to the following terms and conditions. These terms apply to all visitors, users, and others who access or use the site.
Accessing or using the service is on the condition that you accept and comply with these Terms and Conditions, as stated, without modification, and thus acknowledge having read them. If you disagree with any part of the terms then you may not access the site.
Version 1.0
The inside or outside website located at https://insideoroutside.lu is a copyrighted work belonging to inside or outside. Certain features of the Site may be subject to additional guidelines, terms, or rules, which will be posted on the Site in connection with such features.
All such additional terms, guidelines, and rules are incorporated by reference into these Terms.
Use of pictures, entries and recipes on other blogs and sites.
Pictures, entries and recipes can be used on blogs and other sides under certain conditions: as long as a link back is provided, and proper crediting is given, and pictures must visibly include the watermark. Complete publication of recipes or entries are not allowed, unless written permission is given and sought after by email at hello@insideoroutside.lu.  
Use of and access to the Site and Service
Subject to these Terms. inside or outside grants you a non-transferable, non-exclusive, revocable, limited license to access the Site solely for your own personal, noncommercial use. Access to the site is subject to availability, dependent upon both internal and external factors. Information provided is subject to change. inside or outside makes no claim, guarantee, or warranty that the provided content – regardless of its source – is accurate, current, reliable, or free from error. inside or outside disclaims all liability for any and all error(s), inaccuracies, defects or incomplete aspects of the content and/or scripts and/or software and/or any information/material distributed or published through the website.
Certain Restrictions. The rights approved to you in these Terms are subject to the following restrictions: (a) you shall not sell, rent, lease, transfer, assign, distribute, host, or otherwise commercially exploit the Site; (b) you shall not change, make derivative works of, disassemble, reverse compile or reverse engineer any part of the Site; (c) you shall not access the Site in order to build a similar or competitive website; and (d) except as expressly stated herein, no part of the Site may be copied, reproduced, distributed, republished, downloaded, displayed, posted or transmitted in any form or by any means unless otherwise indicated (see above), any future release, update, or other addition to functionality of the Site shall be subject to these Terms.  All copyright and other proprietary notices on the Site must be retained on all copies thereof.
No Support or Maintenance. You agree that Inside or Outside will have no obligation to provide you with any support in connection with the Site. inside or outside reserves the right to change, suspend, or cease the Site with or without notice to you.  You approved that Inside or Outside will not be held liable to you or any third-party for any change, interruption, or termination of the Site or any part.
User Generated Content. All content posted on this site by the users will remain the intellectual property of the user. Users may not, under any condition, post or share any material that they themselves did not create or that is otherwise held under a copyright, trademark, or other proprietary right without proper, written permission. The responsibility for determining the ownership rests entirely with the user sharing the post.
All posts are subject to the terms of this site and can be withdrawn at the discretion of the site based on the behest of the user or the site. In order to provide content as a user, an email, name and first name must be provided upon comment submission.All requests to remove user provided content must be in email form, and must originate from the email provided when creating the initial content. Control over the accessibility of user provided content is at the discretion of the site. If, at any time, legal authorities request access to information about our users or to the material provided herein by our users, that access will be granted.
Excluding any User Content that you may provide, you are aware that all the intellectual property rights, including copyrights, patents, trademarks, and trade secrets, in the Site and its content are owned by inside or outside or inside oroutside's suppliers. Note that these Terms and access to the Site do not give you any rights, title or interest in or to any intellectual property rights. inside or outside and its suppliers reserve all rights not granted in these Terms.
Other Users. Each Site user is solely responsible for any and all of its own User Content.  Because we do not control User Content, you acknowledge and agree that we are not responsible for any User Content, whether provided by you or by others.  You agree that inside or outside will not be responsible for any loss or damage incurred as the result of any such interactions.  If there is a dispute between you and any Site user, we are under no obligation to become involved.
Lawful Purpose. You access and use of the site is with the agreement that you will only do so, with lawful purposes. You agree to be financially responsible for all purchased made by you through the site. You agree to use the site, and any content generated by and purchased through the site for legitimate, non-commercial purposes only. Any purchases made through affiliate links are subject to the terms and conditions of the affiliate site. You shall not post or transmit any material which violates the rights of others, invades their privacy or publicity rights, or which is libelous, defamatory, abusive, threatening, vulgar, obscene, profane or otherwise objectionable. Furthermore, you will not post or transmit any material that would encourage conduct that would constitute a criminal offense, violate civil liberties, give rise to civil liabilities, or otherwise violate any law.
Term and Termination. Subject to this Section, these Terms will remain in full force and effect while you use the Site.  We may suspend or terminate your rights to use the Site at any time for any reason at our sole discretion, including for any use of the Site in violation of these Terms.  Upon termination of your rights under these Terms, your Account and right to access and use the Site will terminate immediately.  You understand that any termination of your Account may involve deletion of your User Content associated with your Account from our live databases. 
Third-Party Links, Hyperlinks & Ads
Third-Party Links & Ads. The Site may contain links to third-party websites and services, and/or display advertisements for third-parties.  Such Third-Party Links & Ads are not under the control of inside or outside, and inside or outside is not responsible for any Third-Party Links & Ads. inside or outside provides access to these Third-Party Links & Ads only as a convenience to you, and does not review, approve, monitor, endorse, warrant, or make any representations with respect to Third-Party Links & Ads.  You use all Third-Party Links & Ads at your own risk, and should apply a suitable level of caution and discretion in doing so. When you click on any of the Third-Party Links & Ads, the applicable third party's terms and policies apply, including the third party's privacy and data gathering practices.
You hereby release and forever discharge the inside or outside and our officers, employees, agents, successors, and assigns from, and hereby waive and relinquish, each and every past, present and future dispute, claim, controversy, demand, right, obligation, liability, action and cause of action of every kind and nature, that has arisen or arises directly or indirectly out of, or that relates directly or indirectly to, the Site.
Links to Third Party Sources. Links contained herein that connect to third party services are not owned or controlled by inside or outside. We assert no control over, nor assume responsibility for content, privacy policies, or practices of any third party sites or services. You further acknowledge and agree that inside or outside shall not be responsible or liable, directly or indirectly, for any damage or loss caused or alleged to be caused by or in connection with the use of or reliance on any such content, goods, or service available on or through any such web sites or services. We strongly advise that you read the terms and conditions, and privacy policies or any third-party we site or service that you visit.
Hyperlinks. In the case of establishing an "hyperlink" between a website and any of the pages of the website of Food Fun Travel, it is mandatory to fulfill certain conditions.It is not allowed the total or partial reproduction of neither the services or the contents of the website of inside or outside, unless otherwise stated (see above). Under any circumstances is inside or outside responsible for the contents or the services displayed on the website where the "hyperlink" was inserted. inside or outside inserts some links to other websites that offer information to the Users. inside or outside does not guarantee that the information included in these websites is exact and it is updated, so that it declines any responsibility for mistakes and omissions.
Affiliate Policy Disclosure. We do accept compensation from affiliate partners in forms of cash, advertising, paid insertions, and other forms of compensation. The compensation received will never influence the content, topics, or posts. We may be compensated to provide an opinion on products, services, websites, etc. However, the compensation does not influence our opinion and we do always try to give the most honest opinions and findings for each product or service, based upon our own experience. Any product claim should be verified with the manufacturer, provider, or party in questions. We do not contain any content which might represent a conflict of interest.
Disclaimers
The site is provided on an "as-is" and "as available" basis, and inside or outside and our suppliers expressly disclaim any and all warranties and conditions of any kind, whether express, implied, or statutory, including all warranties or conditions of merchant ability, fitness for a particular purpose, title, quiet enjoyment, accuracy, or non-infringement.  We and our suppliers make not guarantee that the site will meet your requirements, will be available on an uninterrupted, timely, secure, or error-free basis, or will be accurate, reliable, free of viruses or other harmful code, complete, legal, or safe. 
Limitation of Liability. You agree through use of this site that under no circumstances shall inside or outside be liable to you or any third-party for any lost profits, lost data, costs of procurement of substitute products, or any for direct, indirect, incidental, consequential, special, punitive, exemplary, or other damages arriving out of your use of the site and/or service, arising from or relating to these terms or your use of, or incapability to use the site even if company has been advised of the possibility of such damages. . Except as specified in these terms, the service provided by inside or outside is provided "as is" without warranty of any kind. We are not responsible for any loss, injury, liability, or damage that may arise from your use of the service. We do not represent or warrant that the site, service, servers utilized, or any linked sites or servers are free from harmful materials. Use this site at your own risk.
Hold Harmless. All the information provided on inside or outside is for general information and entertainment purposes only and is the expressed opinion of ourselves and not others. We are not providing any medical, legal, professional advice. You are taking all the provided information at your own risk. Please contact your local hospital, jurist, emergency service, bar association, phone book, Google or your mother to find or obtain a referral to a competent professional.
Changes. We reserve the right, at our sole discretion, to modify or replace these Terms at any time. We may notify you by sending you an e-mail to the last e-mail address you provided to us. You are responsible for providing us with your most current e-mail address.  In the event that the last e-mail address that you have provided us is not valid our dispatch of the e-mail containing such notice will nonetheless constitute effective notice of the changes described in the notice. Changes will be effective immediately. The current terms and conditions will always be accessible through the site and will be time stamped when updated. By continuing to access the site after those revisions become effective, you agree to be bound by the revised terms and conditions. If you do not agree to the new term, please stop using the service.
Reserve Rights. We reserve the right to change the focus of the blog, to shut it down, sell it, change the terms of use, etc.
We also reserve the rights to edit or delete any comments submitted to insideoroutside.lu without notice due to: comments deemed to be spam or questionable spam, comments including profanity, comments containing language or concepts that could be deemed offensive, comments that attack a group or person individually.
Correspondence to inside or outside. Any letters, e-mails, blog comments, responses on Social Media platforms such as Facebook, Pinterest, Instagram and Twitter, or questions written directly to us may be used to share with the blogging audience unless specifically requested otherwise. (Part of) these letters or emails, questions or any other feedback may be used in newsletters, blog posts, columns or up-and-coming books.
Copyright Policy
Copyright/Trademark Information. Copyright ©. All rights reserved.  All trademarks, logos and service marks displayed on the Site are our property or the property of other third-parties. You are not permitted to use these Marks without our prior written consent or the consent of such third party which may own the Marks.
inside or outside respects the intellectual property of others and asks that users of our Site do the same.  In connection with our Site, we have adopted and implemented a policy respecting copyright law that provides for the removal of any infringing materials and for the termination of users of our online Site who are repeated infringes of intellectual property rights, including copyrights.  If you believe that one of our users is, through the use of our Site, unlawfully infringing the copyright(s) in a work, and wish to have the allegedly infringing material removed, the following information in the form of a written notification must be provided:
your physical or electronic signature;

identification of the copyrighted work(s) that you claim to have been infringed;

identification of the material on our services that you claim is infringing and that you request us to remove;

sufficient information to permit us to locate such material;

your address, telephone number, and e-mail address;

a statement that you have a good faith belief that use of the objectionable material is not authorized by the copyright owner, its agent, or under the law; and

a statement that the information in the notification is accurate, and under penalty of perjury, that you are either the owner of the copyright that has allegedly been infringed or that you are authorized to act on behalf of the copyright owner.
Please note that any misrepresentation of material fact in a written notification automatically subjects the complaining party to liability for any damages, costs and attorney's fees incurred by us in connection with the written notification and allegation of copyright infringement.
Your Privacy. This privacy policy has been compiled to better serve those who are concerned with how their 'Personally Identifiable Information' (PII) is being used online. PII and information security, is information that can be used on its own or with other information to identify, contact, or locate a single person, or to identify an individual in context. Please read our privacy policy carefully to get a clear understanding of how we collect, use, protect or otherwise handle your Personally Identifiable Information in accordance with our website. We do not share personal information with third-parties nor do we store information we collect about your visit to this blog for use other than to analyze content performance through the use of cookies, which you can turn off at anytime by modifying your internet browser's settings. We are not responsible for the republishing of the content found on this blog on other websites or media without our permission. This privacy policy is subject to change without notice. Read our Privacy Policy as well as Cookie Policy.
Please do enjoy visiting this food blog but be considerate, respectful, and abide by the foregoing terms and conditions of its usage.
Contact Us If you have any questions about these terms, please contact us directly at hello@insideoroutside.lu